FREE Muscle Building Workouts
Old School Results Meet Computer Science
The Fastest Way To Build Muscle and Get Ripped!
Enter your first name and a valid email address
for free instant access to this amazing workout program.

Who Was Vince Gironda?
Vince Gironda, was known as the Iron Guru, and was a bodybuilding and fitness trainer of the stars at his famous Vince's Gym in Studio City, California which he ran from 1948 to 1997.
This site was made as a tribute to the late Vince Gironda and to provide you with information, articles and links so you can learn more about Vince Gironda's exercises, workouts and nutrition secrets.

Vince Gironda eBook
Vince Gironda "The Iron Guru" Workout and Diet Secrets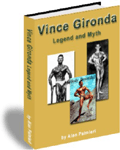 Vince Gironda was the last word in bodybuilding for over 50 years and personally helped some of the best physiques of all time, such as Don Howorth, Larry Scott, Frank Zane, Lou Ferrigno, Mohamed Makkawy and even the great Arnold Schwarzenegger, reach their best condition.
Now you too can have the body you've always wanted by learning all of Vince Gironda secrets for building muscle and getting ripped all while achieving optimum health!
Here's just some of what you will learn:
Information of all phases of bodybuilding from beginner to super advanced
Forgotten muscle growth and shaping secrets
How to build muscle without steroids
Complete nutrition for building muscle while losing fat
How to isolate each part of a muscle
Step by step exercises and workouts
How to develop maximum muscle mass in the shortest possible time
Building jewel like abdominals
Set and rep combinations designed to accelerate muscle gains
How to shape your muscles like the bodybuilding champions
..and much more!
Vince's programs were known for producing the fastest muscle building results in the shortest period of time. This new eBook contains Vince's best known training programs, some of his little known programs, and also his long forgotten methods!

Learn what Vince had to say about steroid use, training, nutrition, and supplements and much more of his remarkable insight and knowledge.

This eBook is over 330 pages and contains every training and nutrition secret that Vince discovered in his over 50 years as the top bodybuilding trainer.

If you purchased all of Vince's books and courses even 20 years ago they would have cost you close to $400.00...

Now you can get all the same secrets for $67.00 now only $27.00!

But wait there's more, if you order right now you will also get:
Bonus 1: Vince Gironda Seminar A full seminar Vince did back in the 1980's including a question and answer section with the audience.

Bonus 2: Vince Gironda Top Tips A collection of Vince's most important workout and diet tips.

Bonus 3: Vince Gironda Secret Exercises The best exercises for each muscle group, plus the best set and rep combinations.

Bonus 4: Vince Gironda's Honest Workout The best muscle building workout program that was ever used at Vince's Gym.
Order now and get started on your perfect body today!

Vince Gironda Secrets eBook Download Only $27.00



After you press the submit transaction button on the order screen, wait for the approval screen to come up and then click where is says "click here to continue" this will take you directly to the download site. It only takes a few minutes and then you'll be on your way to learning Vince's secrets to the perfect body!

The e-book and bonuses are in Adobe PDF format, so you must have Adobe Acrobat Viewer to read and print the files. Adobe Acrobat is a free program that you can download by clicking on the icon below.

Feel better and lose weight fast with the best 3 day detox cleanse at bestvitaminsforall.com