FREE Muscle Building Workouts
Old School Results Meet Computer Science
The Fastest Way To Build Muscle and Get Ripped!
Enter your first name and a valid email address
for free instant access to this amazing workout program.

Vince Gironda Biography
Secrets of Vince Gironda eBook

Click Here Now!
Vince Gironda was born in Bronx, NY. When Vince was still very young, his family moved to Los Angeles when his father, a stuntman, got offered work in the upcoming Ben Hur film. Vince also tried working as a stuntman for a while, but then he found a picture of the great John Grimek, and began working out with weights at 22 years old.
Vince Gironda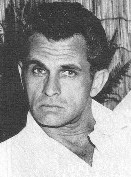 Born November 9th, 1917
Died October 18th, 1997
Vince Gironda's bodybuilding contest history includes:
1951 Pro Mr. America 2nd
1956 Mr. USA Did Not Place
1957 Mr. USA 3rd
1962 NABBA Pro Mr. Universe Short, 2nd
Vince's physique was ahead of it's time as far as being very lean and ripped, and for this reason he never came in first place - because in those days only big, bulky and smooth men won bodybuilding contests. But, most people today would rather look like Vince then the bodybuilders who placed above him all those years ago.
Vince Gironda Bodybuilder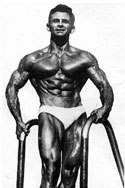 Vince seems to be saying
"Follow my methods and get ripped like me!"
Vince Gironda Trainer
Vince was was the trainer to the stars (bodybuilders, movie and television stars), at his famous Vince's Gym in Studio City, California which he ran from 1948 to 1997.
Vince Gironda's Courses
Vince wrote many training and nutrition courses including: Blueprint For The Bodybuilder, Vince's First Workout Bulletin, Vince's Six Week Bulk Course, Secrets Of Definition, 6 Week Abdominal Course, A Muscle Has Four Sides, etc.
Vince Gironda Book
He also coauthored the book Unleashing the Wild Physique with Robert Kennedy of MuscleMag International.
Sadly, Vince's book and courses are out of print and very hard to find.
Secrets of Vince Gironda eBook

Click Here Now!