FREE Muscle Building Workouts
Old School Results Meet Computer Science
The Fastest Way To Build Muscle and Get Ripped!
Enter your first name and a valid email address
for free instant access to this amazing workout program.

Vince's Gym
Secrets of Vince Gironda eBook

Click Here Now!

How long did Vince's Gym Last?
49 Years! Vince's Gym was opened in 1948 and closed in 1997.
Where Was Vince's Gym?
It was located at:
11262 Ventura Boulevard,
Studio City, CA.
Between Vineland and Tujunga Avenues.
The last time I drove past it, they still had the Vince's Gym sign on the side, even though it was a cell phone store.
What Was Vince's Gym Like?
Vince's Gym was a small, old school gym. The motto was - No fancy machines, no music, just basic free-weights and hard training. All the top bodybuilders and many movie stars trained there.
Picture of Vince's Gym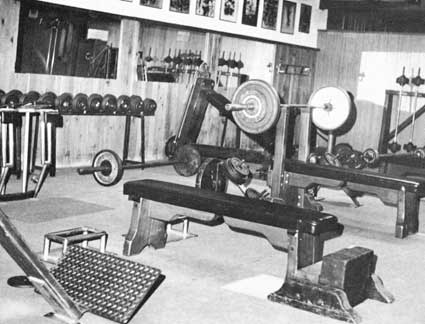 How much did Vince charge to join his gym?
It cost $300 to start to as a member.
Is it true that Vince would yell at people and even kick members out of the gym?
It is true that this did happen sometimes, Vince had little patience for people that refused to follow his gym rules or workout and diet advice.
But if you were sincere and worked hard, Vince would be nice to you and was very generous with his time, advice and help.
Secrets of Vince Gironda eBook

Click Here Now!