FREE Muscle Building Workouts
Old School Results Meet Computer Science
The Fastest Way To Build Muscle and Get Ripped!
Enter your first name and a valid email address
for free instant access to this amazing workout program.

Secrets of Vince Gironda eBook

Click Here Now!
Tommy Chong Workout
Vince Gironda said that "Tommy Chong is 100 percent into working out. He has a great interest in nutrition."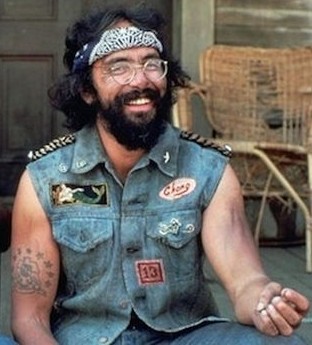 Tommy Chong from the Cheech and Chong duo is now 77-years old and still residing in Canada. Has been training with weights on a regular basis since he was 16. He first started training at the YMCA in Calgary but landed up in Vancouver at around 19 where he started training under the correct supervision.
Tommy explains that over the years his approach to his weight training has changed but he fondly remembers living on the beach in 1968 and training at Gold's Gym, Venice Beach where he met Arnold Schwarzenegger and a few other top bodybuilders.
Tommy says that it was Vince Gironda who actually finally guided him into decent shape he's in for his movie "Up in Smoke". To this day Tommy still holds enormous respect for Vince and the way he trained them. In Tommy's own words Vince was ahead of his time when it came to designing weight training routines and giving nutritional advice on his diet.
Tommy never stopped training and when making movies in Europe, part of every movie deal he would sign, the deal was for a fully equipped gym to be at every film location. Sometimes it would be a machine with weights, other times a squat rack with some free weights. Tommy would then donate this gym equipment to a local jail in whatever area he was in.
Tommy still trains every other day but is doing more aerobics in his workouts than he ever has on the guidance of his personal trainer, Tanner Martty. His workouts now include balance training, some aerobic training using heavy ropes, doing inchworms and/or burpees and pushing a sled.
Below are three movements Tommy trains at least three times a week.
Metabolic Stimulation, Breathing Squats:
Squat with your heels about 20 inches apart, knees a little wider. You then take in two very deep breaths, holding it in for second breath then squat sown with back straight and return to standing upright as you exhale. Performing 3 X 15 reps, with a 2 to 3-minute rest between each set. This will get your adrenal glands activated to train the following arm program.
Biceps:
Standing upright with dumbbell in each hand, gripping with your palms facing thighs, you then curl left D/B slowly turning your palm upwards while bending to your left. As you watch the D/B travel up towards your shoulder, your hand should be on the outside of your deltoid in the contracted position. At this point, you then turn your head to your right as you start to curl your right dumbbell while the left D/B returns to where it started.
While curling the right D/B, you then lower the left D/B back to the starting position. Counting only with your left hand, you complete only four reps, take in 2 deep breaths then shake both your arms as you then pick-up the next D/B on the rack that is heavier than the last 4 reps you just did, then perform another 4 reps, etc. until failure.
Triceps:
Barbell pull-over and press: lying on your back lower a barbell below head. Holding the bar with about a 12" grip (over-hand) you then lower the barbell down as you take it back over your head, below bench level, keeping your elbows tucked in and up, you then pull the barbell back over your face to the lower pec line doing 4 X 12 reps
Secrets of Vince Gironda eBook

Click Here Now!