FREE Muscle Building Workouts
Old School Results Meet Computer Science
The Fastest Way To Build Muscle and Get Ripped!
Enter your first name and a valid email address
for free instant access to this amazing workout program.

Secrets of Vince Gironda eBook

Click Here Now!
Roddy Piper workout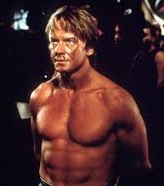 Roderick George Toombs was born in Saskatoon, Saskatchewan, Canada on April 17, 1954, Roddy died from a myocardial infarction on July 31, 2015. "Rowdy" Roddy Piper competed as a Canadian professional wrestler, then later as an actor. Roddy accumulated 34 championships over a competitive wrestling career that lasted for 42 years. In 2005 he was finally inducted into the well-respected WWE Hall of Fame.
Rowdy Roddy stood 6ft 2in (188 cm) tall and competed at around 230lbs (104 kg), but Roddy was always a natural athlete and started training when he was still in school at the Bronx where he lived in New York. This was where he got the opportunity to be trained by the famous MMA competitor/ trainer Gene LeBell, and won Golden Gloves at only 15 years old. Roddy's son now competes in MMA.
That may be where Roddy learned his fighting technique, but it was only when he started training with Vince Gironda that Roddy started to see some serious gains in muscle and strength. A famous quote from Roddy about Vince goes "Vince was the only man in history that ever made me scream."
But Vincent "Vince" Anselmo Gironda was no ordinary trainer because he had some strange ideas on training and coaching his celebrity-frequented gym called Vince's Gym. He eventually got the nickname of the Iron Guru. Despite his weird ideas on weight training Vince was the first person to say to all bodybuilders that bodybuilding is 85% nutrition.
His completely unorthodox training ideas where unlike any other physique trainers, he would never prescribe a regular back squat for example, and did not have one squat rack in his gym. Vince believed that regular squats cause the over-development of gluteal muscles and the hip flexors relative to thighs. He said that this does not apply to women trainees who need more glute and/or hip development.
Typically, Vince would prescribe leg extensions and leg curls, or sissy squats and hack squats and a special type of squat which he developed called the "thigh squat" which he proved more than once achieved serious thigh development. Vince was also the first body building trainer to say that sit-ups will not contribute to abdominal muscle development.
When Vince trained Roddy he also instructed him to never do a bench-press off the ribs because it favored too much on the front deltoid; in its place Vince told all his trainees to do the "Neck press" where the bar is lowered to the neck using a wide grip and not on the chest.
Vince Gironda believed that for overall pectoral development you need to do dips, but he has some crazy ideas that were only later proven to be successful. For example, when he trained Roddy he told him to do sets of 5 and 8 reps doing movements like bodyweight chinning to pull the bar to his chest, enabling full range of motion.
Vince said that to build maximum mass, you need to do movements like shoulder raises (front raise, side raises and bent-over lateral raises) were the best. For triceps, he said overhead extensions with elbows resting on a cradle bench pressing down and leaning against a wall or post.
Roddy was taught by Vince that the use of isolation movements to develop muscle is speeded up dramatically when the mind muscle connection is improved with isolation movements. The success that Roddy Piper achieved he directly attributes to the HARD work that Vince put him through.
Secrets of Vince Gironda eBook

Click Here Now!