FREE Muscle Building Workouts
Old School Results Meet Computer Science
The Fastest Way To Build Muscle and Get Ripped!
Enter your first name and a valid email address
for free instant access to this amazing workout program.

Secrets of Vince Gironda eBook

Click Here Now!
Robert Blake Workout
Robert Blake was born Michael James Gubitosi in Nutley, New Jersey USA on September 18th 1933. Robert has made many movies because he started when he was only 6 years old, you probably know Robert from his Emmy Award-winning part he played as Tony Baretta in a very popular TV series called Baretta.
It took Robert many years before he finally won an award for his acting in Baretta, but he was also nominated for three other Emmy awards. His first was for his role he played Jimmy Hoffa in another popular miniseries called Blood Feud (1983) and then as John List in a murder drama called Judgment Day (1993).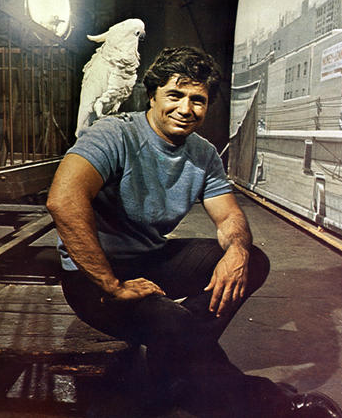 Robert started training at Vince's gym early in life and on his blog that he maintained would always make regular updates on his training, he explained that the Iron Guru was not the butch disciplinarian everyone makes him out to be. Robert describes Vince Gironda as a true friend who was a gentle, graceful artist that knew him well.
In Roberts own words he explains that he truly owes all his success as an actor to his dear, good friend Vince Gironda. Robert explains that in total he trained at Vince's gym for over 30 years. Robert explains that he was more interested in health and internal core strength than bodybuilding, but Vince was always available to help with nutritional advice or training tips.
For over 30 years whenever Hollywood studios needed their new "star" to get into shape they would send them to Vince's Gym situated conveniently on Ventura Blvd in the middle of Studio City, California. But those were days that were long before Crossfit type training, Vince was always ahead of his time.
The Iron Guru, Vince Gironda was already doing fast and effective, strength based exercises which he would do in a circuit style fashion. Vince would instruct his clients to use the clock so that they always pushing to complete more reps in the allocated time.
Below is a good example of the type of workout that Vince would instruct his clients simply because it was something that he had personally trained on a long-term basis. Vince would stress to never rush through a workout, always concentrating on good form and to take a moment to focus on squeezing targeted muscles during the movement.
The objective in this simple workout below is to complete all 10 sets with no, or very little rest between sets and complete it in less than 20 minutes. It's tough but it works:
Time to beat is < 20 minutes
Warm up thoroughly, doing cycling and stretching:
10 pull-ups
10 push-ups
10 dips
Secrets of Vince Gironda eBook

Click Here Now!