FREE Muscle Building Workouts
Old School Results Meet Computer Science
The Fastest Way To Build Muscle and Get Ripped!
Enter your first name and a valid email address
for free instant access to this amazing workout program.

Secrets of Vince Gironda eBook

Click Here Now!
OJ Simpson Workout
Vince Gironda said of OJ Simpson "He is definitely the most coordinated man I have ever trained."
Orenthal James Simpson was born in San Francisco, California USA on the 9th July 1947, nicknamed "The Juice", OJ Simpson became the first man to ever break the 2,000-yard rush mark with 12 touchdowns in 1973. OJ Simpson was more than just a good athlete as he acted in more than 30 movies in his life.
It all started when he attended the University of Southern California (USC), playing college football for a well-known university team called the USC Trojans. After OJ Simpson won the coveted Heisman Trophy in 1968 he started playing football professionally for the National Football League (NFL).
OJ Simpson not only played football in the running back position but he completed 11 successful seasons playing for the Buffalo Bills between 1969 and 1977 and then he moved to the San Francisco 49ers for two years from 1978 to 1979.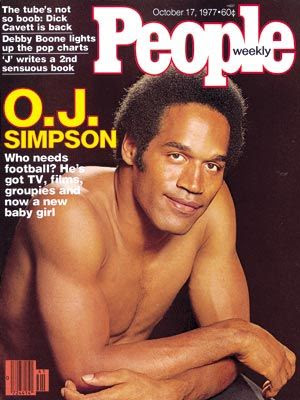 OJ Simpson was a busy man because he also acted in a feature movie every year making a total of 33 movies between 1968 and 2011. During this time OJ was also training hard so that he could improve his football abilities. At one time in his long career OJ went to see Vince Gironda to get some training advice.
Vince then introduced the idea of density training to OJ, which is something he had never heard of before. 30 years later this density training idea of Vince was officially adopted by sports science calling it intensity training. But Vince's definition on density training was specifically the amount of work done for each unit of time measured.
Density and intensity training can be a bit confusing to digest because well-known exercise men like Arthur Jones from Nautilus referred to intensity training as going closer to muscle failure. He described max intensity as being the same as total muscle failure.
Vince would explain his theory of density training by using the marathon runner and sprinter analogy. He would explain that a marathon runner does a lot of work but it takes a long time, whereas the sprinter will be doing the same work load over a shorter time period.
He encouraged all his trainees to always strive to increase their density training because to Vince the marathon runner might be doing more total volume but the sprinter will be able to perform more work in a unit of time and will always increase lean body mass more effectively than a marathon runner.
OJ created his own workout video which was actually presented as evidence in one of his many court-cases. His video workout is called the "Minimum Maintenance Workout" and although it is a relatively gentle workout it will hopefully encourage more people to exercise.
Secrets of Vince Gironda eBook

Click Here Now!