FREE Muscle Building Workouts
Old School Results Meet Computer Science
The Fastest Way To Build Muscle and Get Ripped!
Enter your first name and a valid email address
for free instant access to this amazing workout program.

Secrets of Vince Gironda eBook

Click Here Now!
Michael Landon Workout
Vince Gironda said "Michael has a nicely set-up physique and looks after himself with progressive training. He's a regular guy - one of the boys."
Michael Landon born in Forest Hills, a neighborhood in Queens, New York, he was born to a Jewish father and a Catholic mother with the name Eugene Maurice Orowitz on October 31, 1936. Michael explains that he took the name Michael Landon from going through the telephone book to see what kind of name he liked.
Michael was an athlete all his life and was awarded a scholarship to the University of Southern California, but during his first season he tore important shoulder ligaments in his throwing arm and was unable to hold onto his athletic scholarship that he had won, so he left University during his freshman year and got a job packing freight cars, hoping that this would help to re-strengthen his arm again.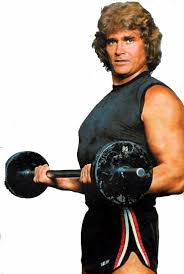 It was during this time that Michael started applying for acting roles and in 1959 started filming a series that would turn into a blockbuster TV series that went on for 14 years without a break. His role in the Bonanza TV series playing Little Joe Cartwright was just the start for Michael. After the Bonanza series was cancelled Michael came back into American households by acting as Charles Ingalls in the Little House on the Prairie and then Jonathan Smith in the Highway to Heaven TV series.
This meant that the American public were looking at Michael perform on TV for a total of 30 years. Michaels face became famous and he appeared on the front cover of the TV Guide for 22 times.
In 1959 when Michael started acting as Joe Cartwright in the Bonanza series. He was only 22 years old and his producer was very concerned that Michael looked too puny for a farm kid, weighing only 132lbs, so his producer asked him to wear a heavy sweatshirt under his costume so he could appear bigger around his chest and shoulders.
Michael was desperate to build up some serious muscle on his upper body so he went to the only man in Hollywood who could solve the problem and that was the Iron Guru, Vince Gironda. When Michael knocked on the door of Vince's gym he had already been working out with bodyweight, doing movements like push-ups and chin-ups, using a punching bag etc.
All he needed was some guidance on how to develop muscle quickly using weight training. By the mid-1960s he had put on some serious muscle on his frame from working out and he weighed 160 pounds. There was a well-equipped gym on the NBC set where Michael worked out every lunch hour when shooting Bonanza.
On April 5, 1991 Michael was diagnosed with pancreatic cancer but it metastasized quickly to both his liver and his lymph nodes, making his cancer inoperable. On May 21, 1991, Michael underwent successful surgery to solve what a fatal blood clot that had caught in his leg, but he died a week later on July 1, 1991.
Secrets of Vince Gironda eBook

Click Here Now!