FREE Muscle Building Workouts
Old School Results Meet Computer Science
The Fastest Way To Build Muscle and Get Ripped!
Enter your first name and a valid email address
for free instant access to this amazing workout program.

Secrets of Vince Gironda eBook

Click Here Now!
Kurt Russell Workout
Kurt Russell started out as a child star on TV, and making Disney movies he was said to be their top star in the 1970's.
In the 1980's he took on more mature roles and became an action star with movies such as "Escape from New York" and "Big Trouble in Little China". This is in no small part due to his getting trained by Vince Gironda to help develop his muscles big enough to give him the physique needed to portray the bad asses he played in those movies.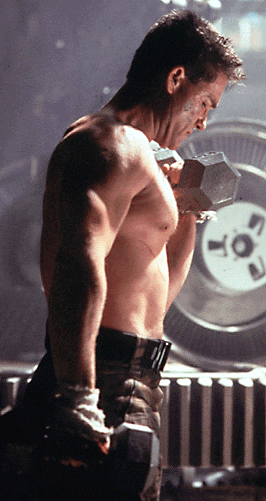 In his book "The Wild Physique", Vince said this about Kurt Russell:
"Kurt recently started training grudgingly. He did so because the studio required it. Now he is enthusiastic about bodybuilding and is doing great."
Kurt Russell started training at Vince Gym for the movie Escape From New York, and most likely the first program he did what the program Vince outlines in his "How I Train the Movie Stars" course, which he used to get people in great shape in only 10 days. This program involves daily Circuit Training and a strict diet to build muscle and burn fat as rapidly as possible.
After that introductory program Vince most likely trained Kurt on the programs contained in "10-8-6-15 Course", "6 Week Bulk Course", "A Muscle Has Four Sides Course", etc.
Kurt Russell got bigger and better for every action movie he made reaching the peak shape of his career in the movie "Soldier".
Secrets of Vince Gironda eBook

Click Here Now!