FREE Muscle Building Workouts
Old School Results Meet Computer Science
The Fastest Way To Build Muscle and Get Ripped!
Enter your first name and a valid email address
for free instant access to this amazing workout program.

Secrets of Vince Gironda eBook

Click Here Now!
Clint Eastwood Workout
Clint Eastwood is one of the most famous stars to train at Vince's Gym.
Vince Gironda said that "Clint has a happy demeanor and a quiet charisma. I see him as a fun loving guy."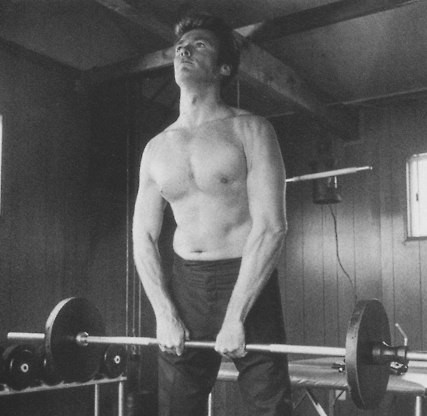 Today Clint Eastwood is in his 80's and still works out. Clint has spent a lifetime lifting weights. Even as a teenager he preferred to work as a manual laborer, working first as a baler with hay and then as a lumberjack. He started training with weights at 19, when weight-training and bodybuilding were relegated to back-alley sweatshops with black-iron plates.
Clint has never smoked cigarettes and has always been aware of his health and eating correctly. He never competed but he trained like a bodybuilder and could bench-press over 300lbs at one time. Clint says in his own words that he never wanted to build huge muscles, he said he trained like a bodybuilder because it was the most efficient way to stay lean.
In fact, Clint stands 6'4" tall and weighs around 190 pounds, in his prime he was compelling enough to be on the cover of muscle mags like Flex and Muscle & Fitness. When Clint Eastwood was major of Carmel he became good friends with Joe Weider, after Joe donated some expensive equipment to a project of Clint's called the Carmel Youth Center.
Clint has always been health conscious and has developed the habit of daily transcendental meditation, he was the original health nut since before the health explosion of the 80's started. He maintains a high protein, low-fat diet and plans his day ahead to get enough recuperation time.
Clint is old school and believes in volume training for up to 3 hours at a time when he's not working. His training routine was very specific and he would train at night when he was shooting during the day and then train in the day when shooting at night.
When he needed to bulk up for his movie called The Rookies he changed from the usual 2 to 3-hour workouts training 4 days a week, he switched to an hour-a-day training 7-days-a-week. Clint responded well to the lower volume using heavier weights.
But in his own words Clint says it was training like a bodybuilder doing an hour of shoulders then quit for the day, or an hour of back and chest or legs takes a bit of getting, but he adapted quickly because he was already training regularly. Depending on his schedule Clint still uses the Stair Master or a stationary bike.
Doing a bit of cardio with weight training, he mixes it up with calisthenics when he's on set. Clint has always stuck strictly to a regime which has worked for him because he created good daily habits. His nutritional advice is very specific with close attention to cholesterol levels (his father died at early age from cardiovascular disease). He sticks to the basics and eats following diet:
Fish (main source of protein)
Pasta
Fruits and vegetables
No dairy products
No red meat
Antioxidants
Vitamins
Protein supplements
Amino acids
Vitamin supplements
Secrets of Vince Gironda eBook

Click Here Now!