FREE Muscle Building Workouts
Old School Results Meet Computer Science
The Fastest Way To Build Muscle and Get Ripped!
Enter your first name and a valid email address
for free instant access to this amazing workout program.

Secrets of Vince Gironda eBook

Click Here Now!
Carl Weathers Workout
When Carl Weathers used to workout at Vince's Gym, Mr Gironda has had this to say about him "What a natural! He could accomplish almost anything physically. An Olympic athlete or an Olympia bodybuilder - both are within his grasp."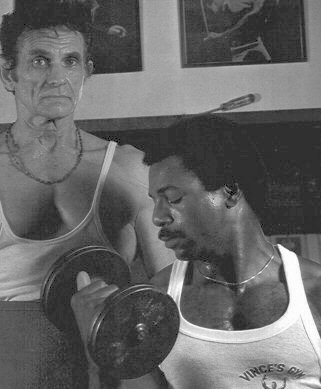 Vince Gironda and Carl Weathers
Carl Weathers was extremely dedicated and would sometimes have to workout at 3:00 a.m. when he shooting a movie.
To build muscle and lose fat he used the 6 sets of 6 reps and the 8 sets of 8 reps workouts, with very little rest between sets.
He got his amazing shoulders by doing the Vince Gironda seated bench over dumbell lateral raise, he used lighter weight but always did the exercise with perfect form.
Some of his other favorite exercises were: dumbell bench press, leg extensions, low pully row, dumbell curl, triceps pushdowns and the frog crunch.
Secrets of Vince Gironda eBook

Click Here Now!